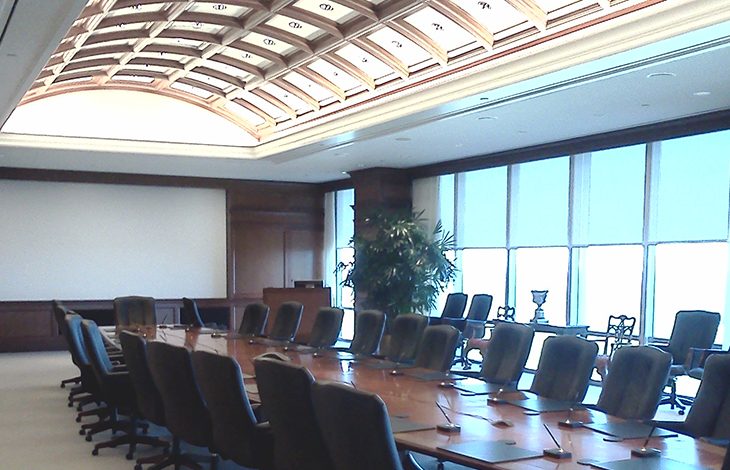 Businesses that provide installation services as AV Control Systems will no longer need to spend money on costly hardware updates. Customers can now use software solutions, making it cheaper for businesses and their customers alike!
With the price of control getting cheaper, we are going to see an increase in rooms that can use it.
How will integrators need to adapt?
A software company should think about what services they can provide with their product.
For example, we might offer free updates and repairs for the first year following purchase or the second year after.
I definitely think you should include a feature where clients can access their accounts and receive any updates on the room remotely. 
Every year, technology advances and it's almost as if software has an infinite number of features that people are prepared to pay for if it becomes too complex!
The IT market is much bigger than the AV industry, so it's likely that more companies will be willing to adapt their equipment for use in an IT environment. 
As things go digital today you have fewer fixed network switches. There are technologies such as AV over IP, which is mostly used in the computer area rather than the audio visual field.
This means there will be a shift within different industries as they find ways of incorporating these new changes into their workflows.
Companies that sit on the AV side will gradually lose market share as more and more people adopt this digital method.
What can AV Control Systems do?
'Integrated' and 'smart' technology devices can now be set up remotely with a range of hardware, software and applications.
Switch lights on/off, or altering their output levels.

Lock or unlock doors.

Turn on/off various devices, such as projectors, displays, cameras and microphones.

Switch camera feeds or monitors various feeds (ideal for security).

Monitor system performance, thermal levels & power consumption.

Upload content to various devices, including displays.

Change the temperature in a room.

Play music from a selected output device.
Want help with your next AV system?
FE Solutions is one of Houston's leading company. And most innovative professional AV distributors and is a leading provider of AV professional systems and devices.
Many people are looking for AV control systems, so here's a quick introduction to the top three companies in the industry.
The first company is B&H Photo Video which offers a wide range of products from TVs and projectors to video cameras and home theater equipment.
The second company is JCPenney Home Theater Systems that provides a variety of services including installation, repairs, and consulting. And lastly there's Cat5e-Cables which sells high quality cables with competitive prices.
To learn more about any one of these companies just click on their name or visit them online!
With many years of experience in supply and system design for many of Houston's largest, high profile audio projects. Our AV experts provide a unique level of technical support and customer service.